A sailing trip in the spring
It was through a sea sailing competition in the summer of 1996 that we ended up with our Senta on the Portuguese Algarve. Since then, we have sailed a different part of the Mediterranean during each vacation. We enjoyed Tunisia, Malta, Turkey, and Greece. Last year, the boat overwintered in Gouvia Marina on Corfu. The war in the Balkans, as well as homesickness for our familiar North Sea and surrounding waters, led us to decide to sail the boat back to the Netherlands this year. And with the mast lowered, from southern France via the French rivers and canals, it will be a vacation trip with the family that is different from usual.
The plan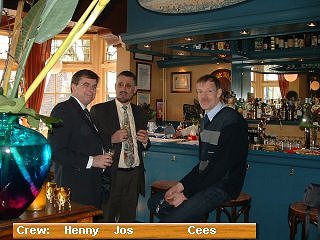 In the spring of 2000, between Ascension Day and Pentecost, we want to sail from Corfu to southern France. Although I usually sail longer distances with just two people, this time there are three of us: Cees (calculator at Schaap construction), Jos (regional manager), and myself. Jos has sailed with me before, but for Cees, it will be his baptism of fire. The journey is divided into three legs: Corfu-Sicily, Sicily-Sardinia, and Sardinia-Marseille.
The one-way trip to Corfu initially presents some problems at Schiphol airport. They seem to be afraid that we'll stay there or something. I have to prove that we'll actually be leaving with a sailboat, and the only thing I have for that is my blue eyes. I succeed. The boat is in good condition and after doing some shopping, we leave the next afternoon.
Watch keeping, on and off.
The first part goes very smoothly, except for some seasickness with Jos and Cees, but unfortunately, that often comes with the territory. After three days, Mount Etna comes into view. Because sailing continues day and night, we have a watch system of three hours on and six hours off. This gives us enough sleep to spend a large part of the day together.
At the bottom of the Italian boot, we encounter fishing boats, with the captain steering the boat from a kind of crow's nest at the top of the mast. It is equipped with an extremely long (about 30 meters, twice as long as the fishing boat) bowsprit, with a harpooner at the end. They thus stalk large swordfish that are sleeping on the sea surface. We hope that we have scared away the fish with our little boat, although grilled swordfish is very tasty.
Messina Strait
Late in the evening, we arrive at the narrow sea strait between Italy and Sicily, the Strait of Messina. And since we want to eat a Sicilian pizza, we decide to go to the port of Messina. This is a very busy harbor with ferries coming and going, but according to the map, there should also be a quay for yachts. However, no matter how much we search, we cannot find a berth. We are being called out from all sides and being put in searchlights. We are not welcome here and clearly do not belong. So, we leave. We go back to the other side, to Reggio Calabria. It is now deep into the night, so a pizza is no longer an option. They say this is the birthplace of the Costa Nostra. We don't notice anything, but the next morning, after some shopping, we quickly get back on the road.
Vulcano
We want to go to Vulcano, a volcanic island just north of Sicily. As we leave the Strait of Messina on the northern side, we clearly see the two seas on either side (the Ionian Sea and the Tyrrhenian Sea) mixing through this little hole. The result is a lot of current and whirlpools, spectacular to sail through.
Cees and I climb the volcano and make an unforgettable hike along the rim of the crater. On one side of the crater, volcanic gases are active. The rotten egg smell causes a lump in the throat. We report to Jos, for whom it was all just a bit too high.
Stromboli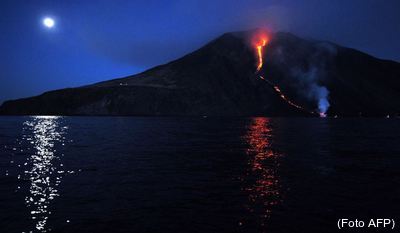 Nearby, about 6 hours of sailing, lies Stromboli, another volcanic island, which spits out fire, stones, and lava every 15 minutes. After a typical Italian dinner on Lipari, we decide to sail to Stromboli because you can best see the fire and lava at night. Around 3 am that night, we drift at the foot of the volcano, and after watching the spectacle for an hour, we set course for Sardinia. The next day, Cees sees dolphins in front of the bow and takes beautiful photos of them.
Isla Magdelena
The journey over the Tyrrhenian Sea continues smoothly and after 3 days we arrive at the Strait of Bonifacio, the sea passage between Corsica and Sardinia. On the island of Magdalena, we spend another rustic night. Across the way lies Porto Servo, ruled by the Jetset, although it is still too early in the year for them, but it's also not a harbor that fits our budget. That's why we chose Magdalena, a charming little town with intimate restaurants.
Time is running out. We would have liked to visit Bonifacio in Corsica, but unfortunately, we have to move on. It's still 3 days to Marseille, and then it's all over.
Mistral
However, halfway between Sardinia and Marseille, we find ourselves in a severe northwest storm that lasts for 20 hours, with wind force 9 at its peak during the night. We sail with only 2 small storm sails and can do nothing but lie a little on a beam reach, everything tightly secured and the boat well sealed.
Inside, we keep a lookout behind the radar. Outside, it's a cauldron, but with the door and hatch closed, it's relatively calm inside. The feeling is that of a roller coaster, but without being able to look around. At the first hard blows, the crew becomes a bit restless, but even that becomes normal. We experience our insignificance in this natural violence. It is important to hold on tight and especially not to bump into anything. Accidents are lurking. Lying down and sleeping is the easiest.
The next afternoon, we are back in the same spot as last night at 12 o'clock, and in the decreasing wind and waves, we can somewhat steer towards our destination, Marseille, in a northwest direction
St. Tropez
We safely find refuge in the bay of Saint Tropez, where we arrive 8 hours later. The contrast could hardly be greater. Still recovering from the intense storm, it's a charming Riviera here. The only ones causing waves are the passing celebrities with their paparazzi in pursuit.
Our first attempt to find a berth for the next 8 weeks fails in Saint-Maxime. The harbor master looks at me as if he's seeing water burn and ignores me further. We don't even bother trying Saint-Tropez itself, and Port Grimaud doesn't look attractive either.
Eventually, we find a berth in the Marines de Cogolin where our sailing trip ends. The boat will stay here until next summer vacation.
TGV
On Monday, Whit Monday, after 18 hours of trains, we're back home and much richer in experience. By Tuesday afternoon, after half a day's work, the whole thing seems like ages ago. That's how it goes.
Thanks to the pleasant company and the excellent bread-baking skills of Cees. Henny van Oortmarssen.