SENTA
Senta was the yacht of my dreams. She has fulfilled our wishes about long distance sailing and cruising along foreign coasts. We sailed her to the North and to the South. With the exception of Finland and Polen we have visit all the sea-located countries of Europe and the North of Africa. We won prices. She never disappointed us and was safe in extreme heavy weather. We had a wonderful time with her.
Unfortunately, when the multihull virus had struck, I put her back on sale to make the next sailor happy. The broker who helped us with the sale of the yacht described her as follows:
Describing "SENTA" as just a blue water cruiser, would not do her justice. This oceangoing cruising yacht is for the ambitious yachtsman, who want to discover all those areas he could not reach normally. This is a yacht to cruise the Seven sea's. I wish the new owner good luck and many happy miles with her.
Aluminum long keel
Designer D. Koopmans Sr.
Built 1970 by Royal Huisman Shipyard Vollenhove
Hull and cabin are aluminum, original teak deck
Hull number 251
Registered Groningen 6521 B G 1993
Dim. 11.00 x 3.00 x 1.80
Displacement 7 ton, lead ballast 3,5 ton
5 (original 6) settees
1x sea-safe pilot-berth, 2x sea-berth
4 cyl. Vetus M4.14 24,3KW (33 PK) built 1990 including spare parts
3-blade fixed prop
double fuel filtering system
approx. 260 ltr. diesel and 300 ltr. water
2x maintenance free 108 Ah batteries
TWC-chip for fast charging
Victron automatic charger
stormjib, jib, genua II, genua I (and some spare sails)
2x special trade-wind sails
All sails are in very good condition:
trysail
full battened main with 3 reefs (and spare main)
orange spinnaker in trunk
2 st. spinnaker poles
sprayhood with stainless steel frame and extra handle
wintertent for entirely ship with standing height
mainsail cover (new)
sun-tent
1x CQR and 1x Danforth anchor
60 m. chain and anchor winch
60 m. anchor line
drogue, sea-anchor
Zodiac tender with Mercury 2.2 outboard
4 pers. D.S.B. automatic survival raft
Original Hassler wind-vane with trim-tab
Autohelm 4000, steers the trim-tab
Gimballed Autohelm LCD radar
Brookes & Gatehouse log
Sailor SSB radio with DEBEG Gonio RDF
Seafarer depth sounder, double transducer with automatic switch
Sailor marifoon, spare antenna and scanner
Philips AP and Garmin GPS (working with radar en PC)
K41 Navtex
Stereo
Origo 3000 stove
Taylor petrol heater
Here are some interesting links
about first owner Dr. Kees den Hartoog
and the journeys he made with SENTA.
SENTA to Greenland
The same article in Dutch, SENTA naar Groenland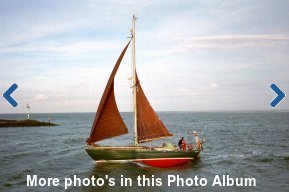 An article from ′Oud Broek.nl″
about Dr. Kees de Hartoog (Dutch)


Inspired by Senta Den Hartoog has built a new and 4ft longer boat called Sentijn, with which he has completed a singlehanded circumnavigation , with only one stop in Sydney.