Introduction
Hello and thank you for showing interest in the building story of Fram, my F-39 trimaran.
Using the "Next" button at the bottom of this page will guide you trough the whole construction process. But be warned, there is a lot of information and thousands of pictures, so it can take some time for the interested reader.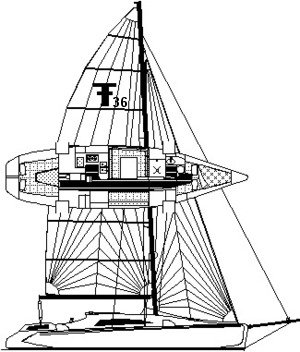 Initially, the choice for my new to build boat fell on the high-tech F-36 trimaran, a design by the famous New Zealander Ian Farrier ( † RIP Dec.8, 2017).
In those days the F-39 did not exist yet. Although the F-36 missed my preferred folding option, the design nevertheless meets most of my wishes. According to Farrier, there was simply not enough demand for a folding option for such a large trimaran. And is it not true that a boat is always a compromise ?
Actually, the determining factor to go on with this Farrier (F-boat) design was the superbly detailed building plans and the building method. The more I studied the plans, the more I realized that this boat is an engineering marvel and accompanied by an building method that I could manage. So all necessary attributes for an high quality yacht!
However, somewhere in my head I still felt the obligation to find out whether it was not better to outsource the construction to a suitable yard. Though, I had already realized that this would be far above my budget, which was indeed proven by offers from various yacht builders at home and abroad.
"The desire to build a boat ... begins as a little cloud on a serene horizon. It ends by covering the whole sky so that you can think of nothing else."
quote Arthur Ransome
I can not deny that this state of mind led to the purchase of the building plans. A stack of paper from which a boat has to be built. This is the beginning of an almost incalculable adventure.
I bought the original F-36 plans in the spring of 2000 and planned the start of the construction process by the end of that year. But it worked out differently.
My wife Monique said, OK, fine, you are going to build our new boat and we both truly want to do this project, but first there are some other things that I've asked you before: we need new painting inside and outside the house, we need new plastering and wallpaper in several rooms, there are several unfinished things since last rebuilding and some other things still to do in our house and garden.
And I want some new furnishings too ................
And the kids want a bigger rabbit hutch..............
By finishing this and carry out your promises I will be ready for the project.
Of course she was right !

Update to the F-39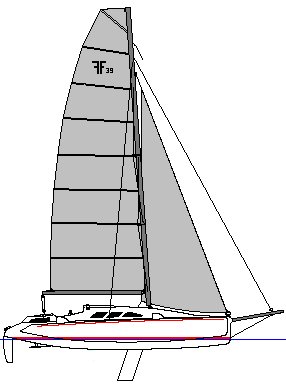 Autumn 2001 everything was done. In the meantime I have been searching for materials and suppliers, and have negotiated for prices and specifications. As still being a greenhorn in composites, I tried to get familiar with all these composite materials and worked on another F-36 (thanks Gary Mulder) to go through the laminating process of the main hull.
And just before I ordered the materials for the first float there was a very welcome note from Ian Farrier that he decided to upgrade the F-36 to an F-39. The new design is not only larger but also includes a number of improvements, the latest design insights, rotating mast and last but not least the folding option.
So this delay wasn't too bad at all and now I could update without any trouble and not having done the wrong things. Spring 2002 I ordered the updated plans. Not all drawings were ready yet but there was enough to make a start.
In the spring of 2003 the form frames for the first float are upright.

Vacuum Resin Infusion.
In the year 2000 when I started to study the possibilities for a DIY boat building project, I was a total composite greenhorn, but I already had learned that a vacuum treatment was desirable to get the lightweight multihull quality I was looking for. However, it was hard to find any information about how to get a vacuum densified laminate within my range of possibilities.
I learned to understand the vacuum bagging technique but the implementation looks to be very challenging. At least to me. The fact that this technique should start with old-fashioned hand lay-up and then to be completed within the time constraints of the resin clock currently looks very discouraging to me. And for laminating and subsequent vacuum bagging the hulls are many helpers needed for which I do not have enough space in my humble workshop.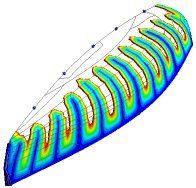 An article in our local ″Zeilen″ magazine put me on the trail of the vacuum infusion technique. This has given me a whole new perspective on the matter. Although, there was almost no information available, except that it was some kind of black magic, operated behind closed doors by some very professional boat building plants.
A breakthrough was made possible through the purchase of knowledge at Polyworx in the person of Mr. Arjen Korevaar.
With almost no previous composite experience, I suddenly saw the possibilities to make my boat building project possible and still be assured of the best possible quality. After all, vacuum infusion is a defined process that not depends of my initially lack on knowledge and experience and skills for laminating big boat hulls. It gave a boost to the preparations.

Workshop
Earlier in the eighties I have built an epoxy/wooden boat, somewhere in a remote barn. From that I learned that I will never build a boat again in a different location than at home.
In the past I did a rebuilding of the garage of our modest house with the intention to enlarge the living room with the aft part of the (former) garage. But I had also a hidden motive to built a new boat, so the actual joining with the living room had still to wait some time ....
Building at home is essential for me. Despite the small room for this project, it is much more efficient than a workshop somewhere else. It's save, I can leave the things behind me and every single moment of the day, or when I feel like to do something, the project is just a few steps away. But the most important advantage is the fact I can stay at home and near my family, a great benefit to family- and social live.
With extension the working area is about 13 x 3,7 m², but the height is not enough to join the two main hull halves together. So I have to do this somewhere else.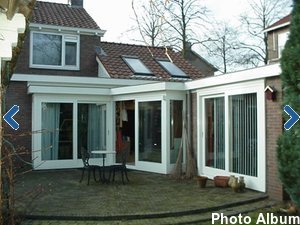 Since there is only just enough room for the main hull (or halves), I made an attic floor for workbench and vacuum table. In fact, the whole floor is a 3,5 x 3,7 m² bench and a standing room is 0,9m. lower in front of this (removable). With the main hull in place, I don't need this lower floor anymore as working at the bench is possible while standing on the F-39 cabin roof.
However, I still need to learn to have the discipline to be very organized and clear, to be able to manage this job in this limited space. Anyway, I don't have a choice. I would never attempt such a project in another location than at home.
As I am going to build with epoxy, there is no inconvenience with bad smell because epoxy is almost odorless. Which is not the case with the two part painting products. These have an awful smell and for this reason I installed a big ventilation unit capable to maintain a low pressure in the workshop. With this the painting fumes flow outside instead of causing troubles with the family.

Workshop extension
There was still one difficulty to overcome: the garage is 2m. too short so I had to enlarge the garage a bit. This turned out to be a big problem in our highly civilized and urbanized small country! July 2001 the plans for a temporary extension were sent to the officials of the my hometown.
By the end of August they decided to turn my request down...............
As I've said before, home building is essential. No permit is no project, but this is something the Jacks-in-office didn't want to know and certainly would never understand. (and here they are right, it's nuts probably ;-)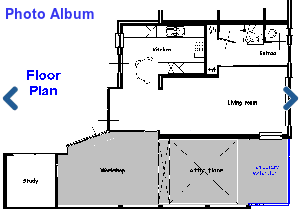 Wow, I never expected this. The extension is simply, small and temporal while I knew (almost) for sure the Dutch building laws must allow this! So next step was to raise an objection to this decision and for this we have a special committee of independent wise men. They decided that the refusal was taken on wrong arguments and advised the officials to think about other arguments for a refusal (no sailors neither)!
Now it became a bad joke. Better arguments were hard to find, but they found them, legal ones against a temporary extension, but, as I found out, nothing against a permanent extension...........
All parties were agreed that this enlargement is not an embellishment for the house, so the legal permanent option is the worst solution. This strange situation came to an climax by a special permission by the Lord Mayor himself, which allowed me to build the temporary (and inexpensive) option. I received this long awaited document in the summer of 2002.
After one year of struggle, the actual building of the workshop extension was finished in just 3 weekends. Even the neighbors like the result and are getting curious about my activities (which are quite abstract for non-yachties).
I started the building of the F-39 in the Spring of 2003 at home. By the end of 2009 I have build and finished both floats as well as the starboard half of the main hull together with some interior parts as settee and galley. Roughly a little less than half of the entire construction job, although it has taken much too long.
But then that once-in-a-lifetime opportunity came along ....

2010 Changes, another workshop
While sitting in the sunny garden in summer 2009 and looking at the successful work we did with once more an alteration of the house (expanding the attic into a fully-fledged living floor), we thought we had made a good descision to cross out the idea of once moving to our ″Dreamhouse″ and instead making our house more comfortable. That dream was living near the water with the boat along the garden jetty. This kind of villa's are always far above our budget.
However, it is a buyers market nowadays and while having peace with the decision to give up this apparently not realistic dream, a once in a lifetime opportunity came along. A radical turnover lead to buying a house with a private harbor on the South side of the IJsselmeer, without any bridges or locks to pass and with plenty of room (33'x40') for the unfolded F-39, very rare in our little country.
When I had known this just a few months earlier, we would not have start the extension of the roof. Now it is not finished yet and we are moving to another house. Challenging times so to speak !
So, the Fram project had to move to a new workshop, which I found quite nearby and not coincidentally being our company workshop.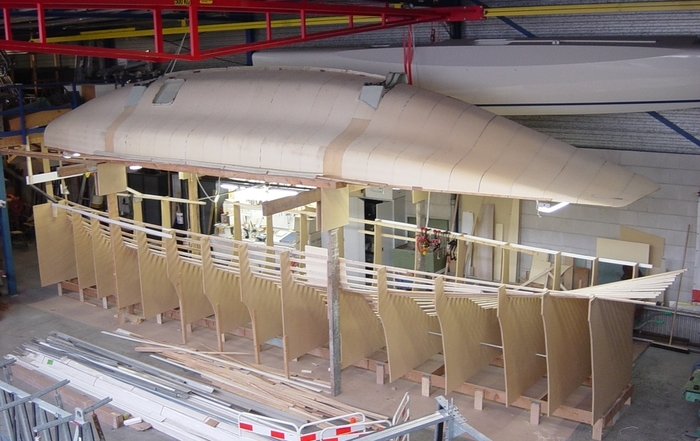 Much more room, but also not at home, which was a major condition to undertake this huge building project. Much less privacy too. This of course is a temporal solution with the necessity of getting in a hurry. This means from now on I will focus on finishing the F-39 on the outside and get her in the water to tie her up along the jetty of our new home. Further work on interior, hardware and rigging will be delayed till she is at home again.

Schedule
What is my schedule ? This seems to be the most important question, not anymore for me but apparently for others who have asked me that already 1000 times. My answer has always been simple, next year! And that is the most accurate answer I can give as that planning turns out to be correct every year.
It is a part-time project, besides a day-job that requires a lot of time and attention, and I work in spurts and bursts, not steadily. And always on my own without any outsourcing. One needs an optimistic mindset because everything takes three times longer than previously thought. I now know why many of these kinds of projects are stranded halfway.
I once met a German catamaran builder and asked him how many years it has taken him to finish his beautifull catamaran .... 14 Years ! was his answer. I complimented him with the great result and shake hands, meanwhile thinking ″that man must be bloody crazy, not my piece of cake ...″
There are only a few F-39's sailing in the world nowadays. Almost all have been built commercially. A sign on the wall? I know of some half build project, resting in parts in a remote barn somewhere, waiting for that enthusiastic builder who will take up the challenge again. But I also know of some almost completed projects that are not far from launching.
It's time for more F-39's in the water.

My schedule: