Origin of the name FRAM
The name for my F-39 trimaran will be FRAM. Yes indeed, named after the famous 39 meters long Polarship FRAM as a witticism to all who think a fast and lightweight trimaran can't be strong and seaworthy ;)
″Round and slippery as an eel″ is another similarity as the Polarship was able to resist the ice pressing by rising above the ice. Not that the F-39 is equal, far from that, but the trimaran converts this quality in to speed by rising above the water.
Weight, that is not a similarity, on the contrary. However, walking over her deck in the Fram Museum in Oslo and under the impression of her build and journey's, I suddenly realized that ″FRAM″ is an appropriate name for my new boat.
In Norway FRAM means "Forwards" and thus also apply to the whole building project (I do not believe in lines of retreat) as to the fast sailing qualities of the F-39. And, besides of this, FRAM is all over the world by everyone easy to pronounce and to understand by VHF radio.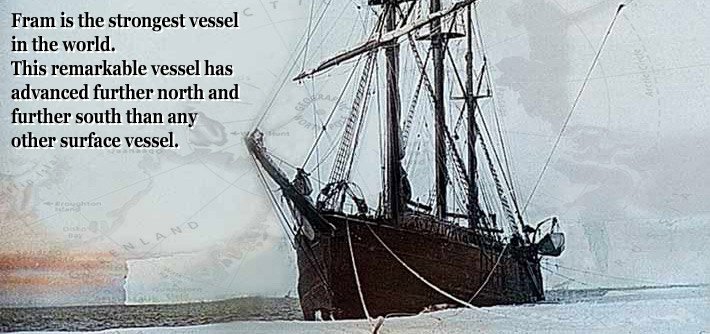 The Polarship FRAM was designed and built by Colin Archer and was, before the Titanic, the most famous ship in the world.
Here is the story of the Polarship FRAM.
My recources for the story in the above link are The movie ″Heart of Ice″, The Fram Museum and the publications Norwegian Maritime Explorers and Expeditions, The Oxford Companion to Ships and the Sea Universum Encyclopedia

But FRAM is not only ″The Fram″. Here is much more!