Narrowboat holiday in the UK Midland canals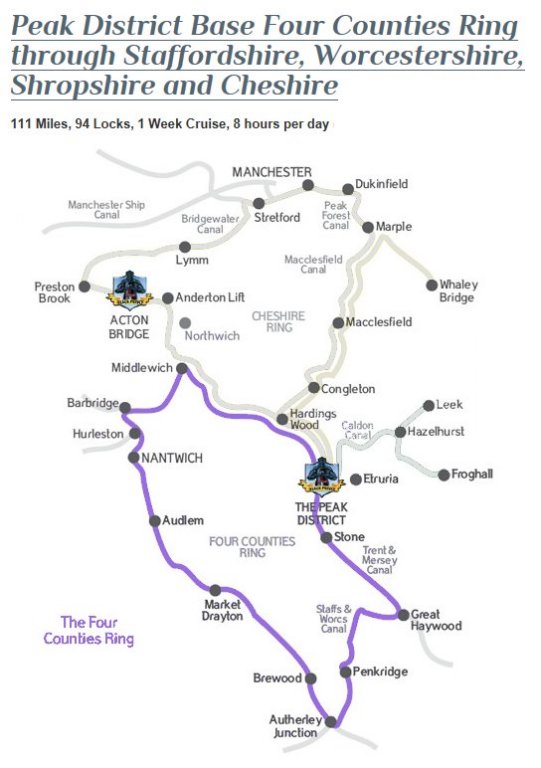 The Four Counties canal boat holiday through Staffordshire, Worcestershire, Shropshire and Cheshire is a challenging one-week narrow boat hire through several lovely canal towns and villages. We started by travelling southwards from the base in Stoke past the Wedgwood Visitor Centre, where one can visit the museum of the pottery company founded in 1759 and go on a tour of its historic factory, or if you fancy a bit of pot decorating yourself, head to the Emma Bridgewater factory.
We then pass through the canal town of Stone, where one can visit Aston Marina, a new leisure development containing everything required for the modern boater, including shops, a butchery, deli and a waterside bistro serving local produce.
At the Great Haywood village, we meet the Staffordshire and Worcestershire Canal. The canal is steeped in history, having been in use since 1772 when it was a vital commercial passage between the Potteries (the towns that now make up Stoke-on-Trent) and Gloucester.
Travelling westwards, we join the Shropshire Union Canal at Autherley. The canal is one of the most important in the country and runs through the counties of Staffordshire, Shropshire and Cheshire.
The main line of the canal was the final civic engineering accomplishment of Thomas Telford, and was completed in 1835. The 'Shroppie' boasts impressive architecture, banks and cuttings and carries us northwards to the Middlewich Arm. On the Middlewich Arm you one find a pub and bistro with a canal boat theme, as well as some magnificent rural views.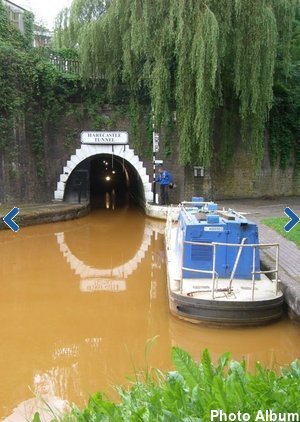 Barbridge is steeped in history. As part of a small hamlet, it was famously mentioned in the Itinerary of the famous historian John Leland. Occupied by royalist forces during the civil war before being populated by Quakers in the 18th century, Barbridge is a beautiful and historical rural parish.
The town of Middlewich is our next point of interest. Middlewich is historically famous for its production of salt, Cheshire cheese, silk and agriculture. Today, it is most popular for its canals, with three passing through the town. In recent years tourism to the town has increased with the advent of the annual folk and boat festival, Roman and Norman festivals, and the increasing presence of farmers' markets.
At Middlewich we rejoin the Trent & Mersey Canal, which carries us back to Stoke through a number of locks and the Harecastle Tunnel. The Harecastle Tunnel features The Telford Tunnel, the fourth-longest navigable canal tunnel in the UK.
The diversion along the Caldon is well worthwhile. The Caldon canal was originally built in 1776 to carry limestone to Stoke on Trent. It is considered one of the most interesting waterways in the United Kingdom because of its contrasts. It begins in the very centre of the Potteries (the towns surrounding Stoke on Trent) but also features a passage through a wealth of remote countryside. Caldon is a canal to stop and take in the lovely scenery.