An outboard engine, though widely used for multihulls, is not suitable for me. Main disadvantages are the weight at the end, bad behavior in waves (this is an ocean going vessel) and the fuel (petrol is highly flammable and also poorly available in the maritime environment) .

So, it becomes an inboard diesel with a prop shaft. A saildrive would be easier to install but would ruin the drying out capability of the trimaran and thus is not an option.

While writing this (renewed) engine page it's more than 5 years after I started this building project. At that moment the Smart CDI engine was a new marine engine on the market and looked quite promising. Since then I've learned a lot and it became obvious that this engine won't make it till purchase stage.

As the old engine page hits a lot of Google searchers and direct links, I've moved the page here.

While working on the starboard interior, that was also the perfect stage to figure out the stern tube assembly.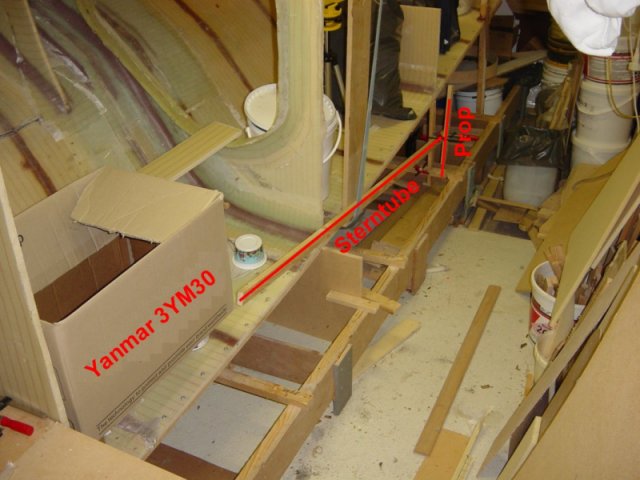 In this picture I made a "mock-up" of the engine and stern tube to get myself an idea of the engine installation. Next question is what kind of propeller shaft support bracket to choose. The plans calls for the fin or P type but in my view these have some disadvantages. First, it is not made of composite but of stainless steel, bronze or brass . This means a different material that sticks out of the hull with risk of leakage as it is a subject for high forces. To me it also looks quite vulnerable but it has to withstand ropes or netting that can be caught by the propeller but also a stone/rock on the wrong place when drying out.

I found these photo's of a not so happy P-bracket boat owner (caught by a lobster pot rope).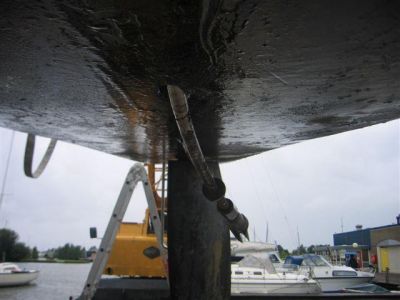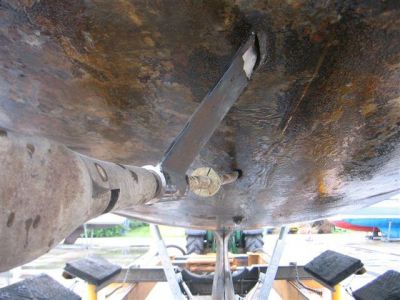 A more solid construction is possible with the reinforcement type shaft support, the skeg with build in stern tube. Advantage it is it can be made as a whole with the hull (all composite) but disadvantage is some more drag, more difficult to make and some extra facilities for the water lubrication. I think I can minimize the drag disadvantage by making the skeg as small and thin as possible with a carbon plate as base. The following picture shows the general idea:

Click in the above-mentioned picture and find an extended gallery of photos showing the making and mounting of the prop shaft and reinforced shaft support

For the longitudinal engine girders the plans show a 12mm. ply web box with wooden 40x40 flanges all around. I try to avoid the use of wood as much as possible so instead I made them of 6omm Core Cell foam (4x15mm glued together), a glass fiber corner profile at the top and all around another six layers of 600gm knitted glass fiber. For the nuts of the engine mounts I've incorporated fortified recesses. Click in the above picture and find an extended gallery of photos showing the making and mounting of the engine foundation.

I bought a box of Yanmar

With a Yanmar 3YM30 inside
to be continued ......