More in detail.
Single side infusion: On one of the boat building forums there was a question about the practical aspects of doing a single side infusion and where the foam hull is the airtight mold. This for sure requires a meticulous job on the foam hull, preventing any piercing by screws, or repairing these very thoroughly, and a lot of attention for the bog in the joins between the foam sheets. It is good practice to use as large as possible foam parts to minimize the amount of seams. To be sure that the joint is airtight, I treat them in four stages. The first one is widening the seam with a Dremel tool and routing a V-shape in it. Then I fill these with a thick mixture of epoxy, aerosill and microballoons, the second layer a little thinner and the final layer again a little thinner. Of course this requires extra time, but doing this well is very important for the integrity of the vacuum bag. Taking shortcuts in this phase will lead to the nightmare of not getting enough vacuum for the infusion. In that stage it is too late for making repairs and the decision has to be made to give up the infusion and to go back to the hand-lay-up job.
Of course the single side infusion on a foam hull requires a closed cell and airtight foam. The A quality Corecell foam is a fine example of such a foam. The thickness I use is 15 mm (5/8") Thinner will be more difficult and thicker must be easier in regards to making an airtight foam mold.
Have a look at the figures below to get an idea of the (extra) hours for making the foam hull (mold) and to infuse the internal hull laminate.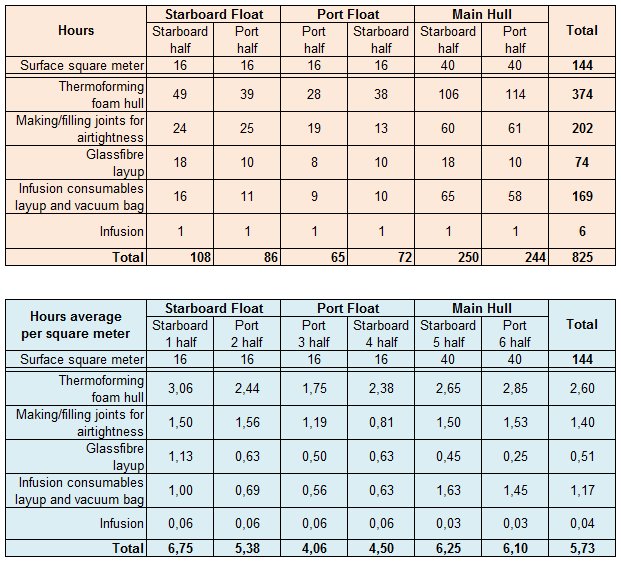 You can see there is a kind of learning curve. Only the last hull (Main hull port half) is made in the new workshop. The difference in working hours between the cramped workshop in my garage at home and the very comfortable and roomy workshop I have today is not very dramatic. All work has been done on my own. Working with two people is more efficient and I guess will save at least 25%.
to be continued with some other details