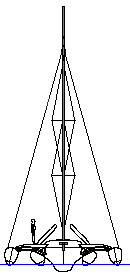 The F-39, a further development of the F-36 (see the photo's in this page), is a large ocean going sport cruiser, with the now third generation Farrier Folding System™ incorporated. This gives tremendous versatility for an ocean capable boat.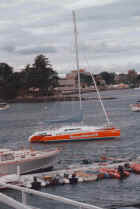 Folded beam is 15' (4.57m) and is thus small enough to access most inland waterways and locks.

The fractional rig is efficient and easy to handle in all conditions, and the boat can be sailed to its full potential with a minimum of sails. The zipper-luff furling jib will be self tacking and the Screacher, set from the bow pole, eliminates the traditional genoa and multiple sail changes, making sail handling a breeze. It's even more ideal for cruising.
The daggerboard is centered in the main hull, while the new designed transom hung daggerboard style 'kick-up' rudder is housed in its own composite case. The self-draining center cockpit with wheel steering can seat six. The 40HP inboard (SMART) engine is located in a roomy and accessible area under the cockpit. Maneuverability is excellent under power, due to the trimaran's superior turning ability, its center hull and daggerboard being natural pivots.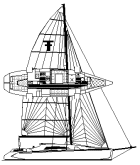 Interior will accommodate eight, with standing headroom throughout. Galley is to port, and a chart table is on the starboard side, along with a wet locker. Dinette will seat five, and can be converted into a large double bunk. Starboard settee is wide and comfortable, and can be converted into top and bottom bunks. Forward, there is a private bathroom with head, washbasin, and a separate shower. Forward cabin has a double berth, with seating room aft, and large storage areas underneath. The aft cabin has a double berth with full sitting headroom. Access is through a hatch in the aft cabin front, or through under the cockpit.

After obtaining the F-36 plans Ian Farrier updated this design to the F-39. So finally, it is this combination of the best aspects of the F-25C, F-31, F-31R, and F-36, coupled with many improvements from F-36 owner feedback, that I am building. A number of other new features to incorporate in the F-39 are now being tested on the also new F-33. I think these new designs are the next generation Farrier tri's, with the addition of the newest materials and visions, among other things influen

ced by the recent successes of the big multihull races.
While the F-36 is provide with a fixed beam, but demountable for occasional transporting, for me the most important modification to the F-39 is the addition of the Farrier Folding System for marina docking, or canal traversing. Other new features:
F-39 compared to F-36 :
Using the vertical foam stripping building method the numbers of form frames are reduced (by 4);
The cabin roof is lifted 40 mm. making it possible to lift cabin floor also 40mm for more width and better storage underneath;
Floats (15% larger) and main hull are extended at bow and stern, making the overall length 39'4" (12 m.);
A redesigned and simpler 'third generation' Farrier Folding System™. This has been specifically optimized for serious ocean going, with a more integrated structural support system. The beam recesses (notches) in the center hull deck are now gone, for a cleaner and safer deck, while also eliminating any interior intrusion. Virtually all metal brackets, and the numerous large bolts required have also been eliminated, saving significant weight and complexity;
Floats will fold in more vertical to eliminate the need for any anti-fouling high on the float side;
Floats incorporate a shaped deck that comes up to form a flat raised area for mounting the outboard edge of the wingnets. This eliminates any fore and aft aluminum tube for this purpose. When folded, the side of this raised area also forms a flat walkway on the float inner edge along the cabin side;
Carbon fiber folding struts are set higher and further away from wave tops and have much less frontal area which is combined with sleek faired leading edges for minimal drag and spray generation;
Beam outer ends tapered off slightly more (thinner vertically) and sweeping slightly higher, and are slightly longer to give a little more overall beam;
Carbon fiber 'molded in' mounting points (replacing Bracket Plates) for the Beam Struts, to considerably reduce weight and frontal area;
Taller rotating carbon rig;
Synthetic rigging - now considered more reliable than wire, while being much lighter;
Carbon fiber chainplates in float and bow;
Main hull bow is now slightly more vertical;
A bow wing, providing additional bow side netting area and a storage place for the anchor;
A fully retractable carbon bow pole;
Transom hung daggerboard style 'kick-up' rudder with composite case.