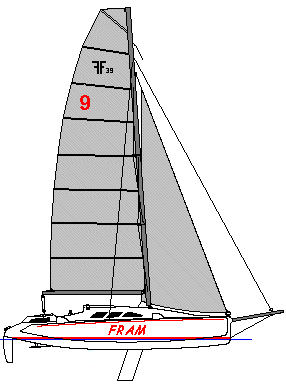 I bought the original F-36 plans in the spring of 2000 and planned the start of the building process by the end of that year. But it worked out differently.

My wife Monique said, OK, fine, you are going to build our new boat and we both truly want to do this project, but first there are some other things that I've asked you before: we need new painting inside and outside the house, we need new plastering and wallpaper in several rooms, there are several unfinished things since last rebuilding and some other things still to do in our house and garden.

And I want some new furnishings too ................

And the kids want a bigger rabbit hutch..............

By finishing this and carry out your promises I will be ready for the project.

Of course she was right !
Update to the F-39.
Autumn 2001 everything was done. In the meantime I have been searching for materials and suppliers, and have negotiated for prices and specifications. I tried to get familiar with all these composite materials and worked on another F-36 (thanks Gary Mulder) to go through the laminating process of the main hull.
And then Ian Farrier came with an update to the F-39. A big surprise and he incorporated my biggest wish, the folding option. So this delay wasn't too bad at all and now I could update without any trouble and not having done the wrong things.
Spring 2002 I ordered the updated plans. Not all drawings were ready yet but there was enough to make a start.
Workshop.
I started the building of the F-39 at home. The workshop was our garage and there was still one difficulty to overcome: the garage is 2 m. too short to fit the F-39 main hull. So, I had to enlarge the garage a bit.
This turned out to be a big problem and I have struggled with the authorities of my hometown for almost one year before I got the final allowance to make an extension to the garage. By the end of September 2002 this was finally finished.
But at the beginning of 2010 everything was changed. We moved to a new house with a private berth wide enough for a trimaran, a rare opportunity we couldn't let go. So, also the building project had to move and I found a new location very close by, the workshop of the company I work for.
Controlled Vacuum Infusion.
During final preparations I discovered that this highly professional technique can be available for me as an amateur boatbuilder with an one-off project. The key-factor here is the use of a specialized software program, which makes it possible to simulate the entire infusion process, not on the real boat, but in the computer. And of course the accompanying professional support I bought with it. I hope (and am sure) that this extra investment will pay back by better building capabilities and finally a superb boat.
F-39 building.
Enter the buttons on the left for more detailed information about the building progress. I will try to update regularly, but as I said before, don't expect daily updates as I am quite busy with everything.
Please come back and visit again !
Launching.
Easter 2018 was a great moment. More than 10.000 building hours has resulted in the launching of Fram. Although she was ready to sail independently, much still needs to be done. The interior has yet to be finished, just like the beams, the technical installations and of course the rigging. Click on the picture below for an extensive photo report of the move from workshop to home port.