Workshop extension.
There was still one difficulty to overcome: the garage is 2 m. too short so I had to enlarge the garage a bit. This turned out to be a big problem in our highly civilized and urbanized small country! July 2001 the plans for a temporary extension were sent to the officials of the City of Hilversum.
By the end of August they decided to turn my request down...............
As I've said before, home building is essential. No permit is no project, but this is something the Jacks-in-office didn't want to know and certainly would never understand. (and here they are right, it's nuts probably ;-)
Wow, I never expected this. The extension is simply, small and temporal while I knew (almost) for sure the Dutch building laws must allow this! So next step was to raise an objection to this decision and for this we have a special committee of independent wise men. They decided that the refusal was taken on wrong arguments and advised the officials to think about other arguments for a refusal (no sailors neither)!
Now it became a bad joke. Better arguments were hard to find, but they found them, legal ones against a temporary extension, but nothing against a permanent extension...........
All parties were agreed that this enlargement is not an embellishment for the house, so the legal permanent option is the worst solution. This strange situation came to an climax by a special permission by the Lord Mayor of Hilversum, which allowed me to build the temporary (and inexpensive) option. I received this long awaited document in the summer of 2002.
After one year of struggle, the actual building of the workshop extension was finished in just 3 weekends. Even the neighbors like the result and are getting curious about my activities (which are quite abstract for non-yachties).
2010 Changes, another workshop.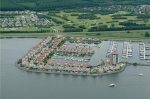 While sitting in the sunny garden in summer 2009 and looking at the successful work we did with once more an alteration of the house, we decided to cross out the idea of once moving to our "Dreamhouse". That dream was living near the water with the boat along the garden jetty. This kind of villa's were always far above our budget. However, it is a buyers market nowadays and while having peace with the decision to give up this apparently not realistic dream, a once in a lifetime opportunity came along. A radical turnover lead to buying a house with a private harbor on the South side of the IJsselmeer, without any bridges or locks to pass and with plenty of room (33'x40') for the unfolded F39, very rare in this little country.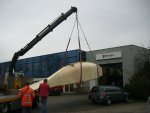 So, the whole project moved to a new workshop in Huizen (our company workshop) Much more room, but also not at home, which was a major condition to undertake this huge building project. This of course is a temporal solution with the necessity of getting in a hurry. This means from now on I will focus on finishing the F39 on the outside and get her in the water to tie her up along the jetty of our new home. Further work on interior, hardware and rigging will be delayed till she is at home again.
Much more room in the new workshop.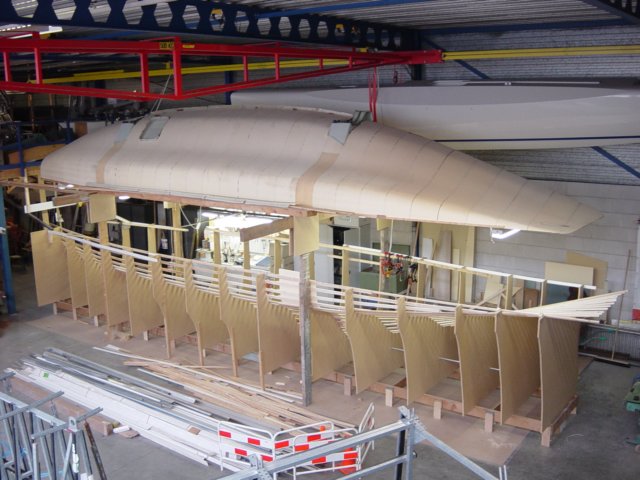 "professionals built the Titanic, but an amateur built the Ark"