Hello and thank you for showing interest in my web site. This is me (left picture) and our Senta a few hours before the start of the 1200 nm. duo-handed race IJmuiden - Lagos. On the right side my wife Monique with our children Henny jr. and Annemarie. Here we are sailing somewhere in the Aegean Sea in summer 1997.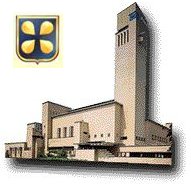 We live in The Netherlands. For almost 55 years Hilversum has been our hometown. Hilversum, nestled in the woods and moors of Het Gooi, is the home of the Dutch radio and television industry, so that's why Hilversum is also called "the Hollywood of the Netherlands" (or Hillywood when reading too much scandal magazines). Despite the plentiful open spaces, it would be hard to swing a cat without hitting some minor celebrity or other. But if you did, at least they would get their name mentioned in the next edition of the newspapers.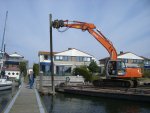 January 2010 we moved to our new home in Lelystad, where Fram will be moored along the garden jetty.
While this berth was designed for a "normal boat", not a wide trimaran, the berth has been enlarged by replacing the poles to a width of 9.75m (32'). Below you can find the webcam capture of the view from our backyard. Click in the picture for the actual view.
Our new hometown (and homeport) Lelystad is founded in 1966, a new city in New Land (former Zuiderzee) and is now considered a green, wetland recreation area with the tranquility and space that the Randstad conurbation lacks. Yet Lelystad is also a paragon of modern architecture and urban planning. Many famous architects have contributed to that image.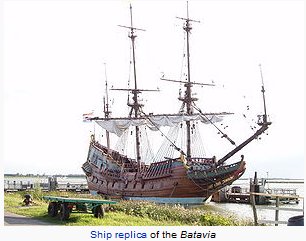 Through the construction of lifelike replicas, in Lelystad history is brought back to life again. Batavia shipyard enjoys a worldwide reputation for the reconstruction of the VOC ship Batavia, yet the current construction programme involves De 7 Provinces: a new ship of Michiel de Ruyter.

South of Lelystad are the Oostvaardersplassen Lakes. In spite of the fact this is new land it looks like the Netherlands as it was thousands of years ago. It is an untouched swamp area with vast expanses of water and wild grasslands. Nature is still left to run its natural course here. It is a unique spot in the Netherlands and Europe.

Professional I am a structural engineer and as Business Unit Director of Breijer Bouw en Installatie responsible for the building activities in the centre of The Netherlands. Breijer is a division of Facilicom Services Group, a major Dutch facilities services company operating in Western Europe in the field of catering, security, cleaning, technical installations, maintenance, building and rebuilding.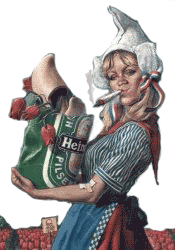 We not only walk
on wooden shoes,
we sail them too.