Around seven or eight I had been at the finishing stage of my build and was applying Zpoxy to grain fill the EIR used for the body of this instrument. In fact you may even recall a tutorial I posted back around that time showing how I use syringes to insure an equal mixture when measuring out the small quantity required when using this product.

My first recollection of what would turned out to be a series of unfortunate assumptions by myself, and others, which eventually led to much suffering and a challenge to my over all health as great as anything I have had to face during a most adventurous and gamely 50 years of life, was of a sunny weekend afternoon. The wind had picked up, but earlier that day, in the calm bright morning, I had noticed a swarm of small sandflies hovering over the grass of our backyard. I believe these 'biting midges' or sandflies as they are commonly known here in Australia are a world wide annoyance, so anyone who has spent time in a topic, sub-tropic or temperate coastal region should know all too well of the pest I am talking about. Anyhow the relevance of these little buggers will soon become very clear, but here is a link which describes the evil little blood suckers to which I refer.

http://medent.usyd.edu.au/fact/bitmidge.htm

As mentioned, I had been working out in my shed most of that and the previous day. It had been quite frustrating more so than enjoyable as I had encountered some kind of contamination actually 'in' rather than 'on' the rosewood. This contamination had presented itself as quite large fisheye, yes large fisheye even in neat epoxy, so you can imagine my concerns over what would happen under a much less viscose finishing medium such as nitro. So I took my concerns to good friend, master craftsman and finishing expert, Allen McFarlen of Barron River Guitars in Cairns north QLD, http://www.brguitars.com/brg/Home.html and Allen's advice, following his years of experience in the auto refinishing industry, had seen me continuing a regime that would hopefully reduce and isolate the contamination under epoxy so that finish could then be safely applied 'over' the contamination.

This regime was a simple enough process which involved first thoroughly washing down the well cured coat of the epoxy grain filler with naphtha (what we call shellite or white spirit here in Australia) using fresh clean rag and then, sanding off the epoxy back to wood before cleaning the guitar down again with fresh rag and more naphtha, then applying fresh epoxy and repeating the process. Having completed the process twice over two days my hopes were up as it appeared to be working out quite well. Indeed the fisheye had diminished considerably both in dimension and frequency to a point where I was now quite confident that just a few more applications would see the problem contained completely under the epoxy as per plan.

Happy enough with progress, it had come time to leave the shed, go back in the house, have a shower, get dinner for my kids, and have myself a beer. My Wife works afternoons of the weekends so I normally play Mr Mum to a pair of excellent girls who make this role a real joy. Anyhow, to paint the scene, our house is a very old and quite run-down Jarrah weatherboard affair. It sits upon a fairly large 1950's suburban residential lot which has since been re-zoned for units construction. Being less than 5 minutes walk to the cool waters of the Indian Ocean, the land is quite desirable, however the house or cottage if you like, presents no incentive for renovation as it will one day soon be bulldozed to make way for development, but in the meantime, we get by just fine in the shack.

The sun was now beginning to set and as mentioned the wind, or sea breeze, had picked up to be quite blustery as is often the way of the "Fremantle Doctor*" in the later part of a warm Perth afternoon. As a result, the pilot light in the old gas instantaneous hot water system attached to the outside wall of our bathroom had been blown out. Unless it's been a real howler of a day, you don't generally discover the absents of this pilot light until you are actually in the bathroom, have stripped down naked, turned on the shower and are greeted by only cold water. This usually evokes some sort of profanity from me before I pull on my boxers, throw on a bluey and head outside in the wind, and sometimes rain to spend the next half hour trying to light the dam thing. In one of those most confounding things about life, this only happens 'just' frequently enough to not warrant paying for a new heater to see us over until we move on.

After 20 minutes outside with the cigarette lighter kept specifically for this job, I finally get the heater cranked up and enjoy a nice hot shower. Whilst towelling off, I notice the usual itch and white bumps left by the mozzies who had obviously once again had a feed at my expense while I had been out there in the relative calmness of that unkempt area which houses the heater. I ignored the bites; I got dressed, knocked the top off a coldie, made dinner, watched teli, and went to bed. Later that night, about 3am, I was awoken by an itch on my lower legs and the inner area of my arms. I went into the living room to have a look at the areas affected and yep, sure enough, sandfly bites on both legs and my arms. I hate sandflies; you can't even feel them going about their business, but a few hours later, oh man the itch! Sort of thing where if you scratch here, it will itch more there, and so on, and so on, until you go nuts. The worst of it is that the itch hangs around for about a week. I figured the pesky little so and so's must have ganged up with the mosquitoes and savaged me while I was out side lighting the heater. I gave the affected areas a heavy splash of calamine lotion which settled things down quite quickly and I went back to bed.

The morning was again very calm and sunny, and as I passed a small black swarm of sandflies hovering over the backyard, I shook my fist in anger at them but kept my distance as I made my way into the shed and shut the door behind me. I then pulled on the old tack suit pants I had worn yesterday to keep the dust off me up and over the top of my shorts. I took off my sandals and put on socks and runners, I then put on the same dusty long sleaved shirt I had worn yesterday over the fresh T shirt I was wearing, and I also put on a twin cartridge respirator, a pair of disposable gloves, and began to wash down the guitar with naphtha. Allowing that to gas-off, I then swapped out the respirator for a quality dust mask and started sanding off the epoxy applied the last evening. Once that was complete, I swapped out the dust mask for the respirator and made a fresh mix of epoxy.

One thing I had tried on the previous coat, was to thin the epoxy with alcohol by around 50% prior to application with the plan being the alcohol may dilute the contamination more effectively and the thinner mix may allow the now diluted contamination to rise more freely through the epoxy to be cleaned or sanded off. I felt that as the initial coat had been applied neat and had effectively done its job in filling most the grain, this thinned coat could completely sanded away and should not present any problems. My theory seemed to have worked quite well knocking the fisheye problem back considerably, so I decided to do this same thinning process once again.

I applied the new coat and left the area removing my protective gear outside so it could air. Given the warm weather, around 8 hours later on that same day, I went back out to repeat the process for what I was hoping would be the final time. When I finished that application, I packed up and went inside to repeat much the same routine of the previous evening less the annoying trip outside in my underwear to light the water heater. As anyone would know who has ever been savaged these things, the hot shower had caused the sandfly bites to become really itchy. Bloody annoying thing because I knew the itch would be around for over a week or so. The bites start out as just tiny little red bumps on your skin, the itch is so bad that you will most likely scratch the top off at some point so they fester a little and itch a lot. I really do not get the point of them quite frankly, sure come and have a feed on me, your welcome, but why leave me in such discomfort for so long? Ungrateful little so and so's.

So on it went, scratching and calamine, calamine and scratching, nothing too bad, but very annoying. The next day when I check my legs it looks like I have been bitten again? The light had blown in the computer room, the globe is part of a ceiling fan and quite unique and I did not have a spare. As a result, I had spent a fair bit of the last evening on the PC in the dark and put this latest attack down to a successful covert operation by my nemesis the sandflies, but all jokes aside, you need to understand this ITCH! Many years ago I had lived on an island in QLD, I knew all too well about sandflies and how some people can have a nasty allergic reaction. I even learnt that antihistamines where the answer if things got really bad and they had. I went down the chemist, or what our American friends would call a drug store or dispensary, explained my dilemma, and was given some off the shelf low dose hay fever tablets, I got home and took a couple and, as expected, the itch subsided considerably.

Next day I woke up and the skin between bites was beginning to welt up and join together in a kind of yellow white pinkish rash and the freak' in itch was just unfreak'in believable. This sort of reaction had 'never' happened to me before and now, not even the antihistamines where working that well. I went back down to the chemist and showed the pharmacist my arms and pulling up one leg of my trousers, I showed her my inner calf. The pharmacist told me that I am having a severe allergic reaction to the sandfly bites. I made mention of the fact that I had never reacted to them in this way before. The pharmacist explained that it was probably the case that my immune system had now weekend with middle age and as a result, I react more strongly now than I had in my youth.

The pharmacist then reached behind the counter and handed over a box of 25mg Phenergan which are a somewhat stronger antihistamine than those first taken. These new tablets did settle the itch but I needed the maximum of 3 a day for them to be effective and this made me so drowsy I did not want to do much but lay down, so I could not go to work. I continued taking the Phenergan for another two days by which time I had a suspicion that things where still getting steadily worse, however I could not be sure as I did not fully trust my own judgement.

It needs to be understood that by this stage, with the constant ingestion of this powerful sedative like pill, I was not myself anymore. I have never suffered hay fever in my life so have never had a need to take antihistamines and naturally had no tolerance whatsoever to their powerful sedative affect. I 'suspected' that the itch was growing stronger, it 'seemed' to have become almost constant despite the use of Phenergan, but I was unsure if this was a reality, or a magnification effect from days of relentless irritation, coupled with this powerful drug now making me imagine that it was worse. I also 'suspected' that the rash was growing. It 'seemed' as if it was travelling from my crotch (yes indeed there to) and moving down my legs and from my calves up toward my crotch. It also appeared to be moving up and down my arms from the inside of my forearms.

In moment of clarity, I took a permanent marker pen and marked the outer extremities of this insidious rash on my leg to try and confirm my suspicion. This had to be done as the changes, if indeed there were any, were happening very gradually, far too gradual for me to accurately pin point from the clouded drug swept memory of an hour ago, and yesterdays memories were just too far away to even consider. The next day it became very clear I was in some trouble. The rash had indeed grown well past the marker pen and the swelling in my legs had increased to a point where all definition was lost between knee and ankle, and the itch, the itch was now so intense it was all I could do to prevent myself from tearing my flesh from my bones. The only way I can define this is to say that the itch was not 'on' my skin rather it was deep 'in' my skin and flesh, the effect was completely maddening.

I made my way to the emergency department of the local hospital. I explained the sandflies, the pharmacist, the Phenergan, the lack of previous reaction to sandflies, the hobby and recent use of epoxy, the lack of history of an allergic reactions to anything at all in my entire life, etc, etc, etc. Blood was taken several times and many more question asked. Eventually, it was suggested that as a result of an allergic reaction to the sandflies, I now had a secondary bacterial infection or cellulitis in my right leg, this was a big concern so I was admitted to hospital and given IV antibiotics over the course of that afternoon and throughout the night. The next day the swelling had not subsided, nor had the itch and I cannot for the life of me understand how much more intense it could have been if not for the Phenergan.

Here is an image taken with my phone of what my inner right forearm looked like as I presented at the hospital.
The doctor done his rounds telling me that the swelling in my leg was so bad it had restricted circulation to such an extent as to prevent the antibiotics from getting in there to do there work. He said it could be some time before they do the job and I would need to just lay down with my legs raised for a week or so and let it happen. Rather than have me take up a much needed hospital bed, the doctor sent me home on the "Hospital In The Home" program (HITH). This would see me at home with an IV shunt still in the back of my hand, and a HITH nurse come visit me each day to inject antibiotics into the shunt until the infection was bought under control.

Here is an image of the shunt, when they stuck this in, the skin under the cello tape holding things in place was clear of the rash, a few days later when this image was taken you can see it has travelled right across my hand under the tape and it could not be scratched, so it seemed to itch more here than elsewhere on that arm.
The itch remained, the Phenergan continued supplemented by codeine forte required to manage a pre-existing back problem which, among other things, restricts my ability to lay down for extended periods. The nurse continued to visit each day with her big horse syringe and the rash continued to grow. After a few days I was sure the antibiotics where having no affect whatsoever. In my drugged out wanderings I made my way to the PC and Googled "Epoxy Allergies" and I came across this site.

http://www.fram.nl/workshop/controlled_vacuum_infusion/allergy.htm


Having read that bit of info, I went to the Zpoxy website and downloaded a few pdf files. The HITH nurse dropped in to give me my daily injection and I showed her the information. She immediately made an appointment for me to see the ID doctor at Fremantle hospital which is the hub for the HITH program. When I seen this guy he was not impressed with my self diagnosis and suggested that he had seen this before, he said that if I was having an allergic reaction, it most probably to the antibiotics they had been giving me so they would need to be changed, when he came to his senses shortly after I had introduced him to Rpokim (Really Pissed Off Kim), he agreed that what I had was indeed most probably Epoxy Contact Dermatitis and that his antibiotics would do nothing to help me so he removed the shunt. I then ask what can be done? He suggested that it will just take time to clear from my system, that I should go home, keep my legs raised, and keep taking the antihistamines. I told him how they seem to have become much less effective of late. He said he would prescribe a different kind that should do the trick.

I got home and took the new antihistamine and found out shortly afterwards just how affective the Phenergan had been, the new tablets where useless. I stayed at home for a couple more days and things were still getting worst. Despite moisturiser creams and other anti itch concoctions, my legs looked horrendous and my arms where pretty bad too but not as bad as the legs they where shocking. I ventured outside into the sun and took this next photo of my arm. Just after taking this photo, the itch flared again from the heat. I found some relief in a cold shower which rehydrated the skin diminishing some of the redness just long enough to reveal how sinister this affliction really is. Down 'under' my skin, I noticed the deep purple blue colour of bruising between my skin layer and muscle tissue, according to my doctor, this was the result of the haemorrhaging between the skin and muscle, nasty stuff indeed.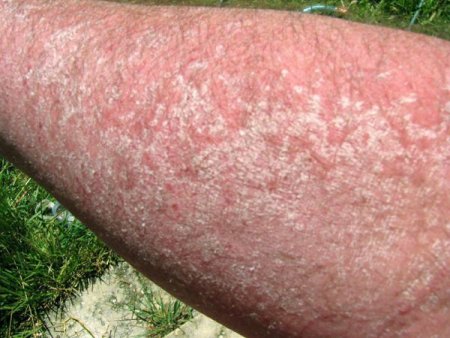 I went down to see my GP to see if he would euthanate me putting me out of my misery, the itch, the itch, the itch, the itch. My doctor took a look at my leg and immediately had the exact same response as every other medical practitioner who had examined me up to this point he said "Oh my gosh!" I showed him my pdf files and he agreed it was contact dermatitis. He told my I was fortunate because on that day, right across the road from his surgery was a doctor by the name of Mr Kurt Gebaur who is a specialist in industrial dermatology, and just by chance or divine intervention, Dr Kurt was doing his 1 day stop monthly round of my home town. My doctor made a call and I went across to see Dr Kurt who looked at my legs and said "Oh my gosh!" that is quite a pair of legs you have under those symmetrical erthematous eruptions, how long have you been like this? I told him just over two weeks. He shook his head and said you poor bastard. He ask "Itchy?" He then looked up at my face and seen Rpokim standing there and immediately apologised. I told him of my visit to hospital and the antibiotics. He shook his head and said nothing but did ask the name of the doctor who had diagnosed cellulitis at the hospital.

He told me that he would prescribe Prednisone, a synthetic corticosteroid, which should clear things up in a few days. With that news, I could have kissed the man's feet. After reading the information on that link above, I now had some idea of how dangerous working with epoxy could be, but I took the opportunity to ask Dr Kurt how I had become so badly affected considering the cover up precautions I had taken?

Dr Kurt replied that epoxy fumes have about as much regard for human tissue or clothing as a barrier, as mulberry juice does, "it just goes straight in". Dr Kurt went on to say that he sees this all the time, he told me that we are all allergic to epoxy, every one of us. That it is just a matter of time before each of us reaches the threshold of our own tolerance to exposure and become sensitised. He said that once you do become sensitised, you remain so for life and must stay away from all forms of epoxy thereafter. Dr Kurt warned that in future I must make sure I tell any dentist about my condition before they commence work on me so that due caution can be taken to not to mix the produce in the same room as me. He warned that the stronger the smell of the hardener, the more dangerous it is to use and whilst the cured product is not 'as' hazardous, the dust remains a dangerous sensitiser to your skin.

I wish I could now say that this was the end of this tale, but it is not, I ended up not being able to work for 3 weeks, the steroids prescribed by Dr Gebaur carry there own issues, they make you feel quite unwell as their purpose is to shut down your immune system and I believe this is to stop your body from attacking the epoxy and reacting. Seems weird I know however it really is very affective at clearing things up. The itch subsided considerably after the first day of treatment and, after about 7 days my skin settled, so I stopped taking the steroids but then came some withdraws, symptoms of which and a bit more detail of the side affects of this drug can be found here.

http://en.wikipedia.org/wiki/Prednisone

Here is an image of my inner right forearm about 5 days after taking the first Prednisone.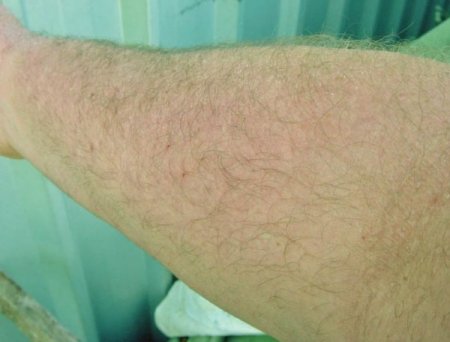 As you can see this Prednisone is not overly nice stuff but it is effective at what it does. A demonstrate of how completely un-nice epoxy is can be taken from the fact that after I stopped taking the Prednisone, the itch and skin condition came back however it was more manageable. I did not want to take the roids again because of the side affects already point out, one of which is that you become a little confused and I am not use to that, it does not sit well with me and Rpokim comes to visit with much less provocation than would normally be required, and then there is the hassle in shaking the roids off again which is an ordeal in itself and according to wiki can even prove fatal. I decided now the itch was manageable, I would wait it out in milder discomfort until the epoxy dissipates from my system, after what I had been through in the previous 2 weeks before the roids, I felt I could stand pretty much anything……………………………….I waited………it got worse. After a couple more weeks the rash was picking up some real anger again, the itch was moving toward high intensity, the skin began to peel from the palm of my hands, between my fingers and the soles of my feet, my legs began to blow up and itch and I had to face the fact that this thing aint done with me yet. I called my doctor, he said jump back on the roids and come see me in a few days and we'll take a look, I said "Oh my gosh!"

I have now been back on the roids for 4 days, the itch is all but gone again, the swelling subsided, the rash dissipating. I did not post about this earlier because I have been waiting for the happy ending which was supposed to be weeks ago. But with so many of us using epoxy to grain fill and what not and still no end in sight for my affliction, I thought I had better get this done now so others can be informed.

If you think this will not affect you because you have never had a reaction to anything before and have used epoxy plenty of times without ill affect in the past, then you need to understand that prior to this episode I stood in your shoes. I have always had a very robust constitution, last to get crook, first to get back into it, but this has knocked the shit right out of me so be warned oh bullet proof one, read the link I posted above, in fact here it is again so you don't need to scroll, this is important stuff.

http://www.fram.nl/workshop/controlled_vacuum_infusion/allergy.htm


If you took the time to read through that page one thing should be quite obvious to you now, Epoxy Sensitisation and Contact Dermatitis are NOT rare, it is normal and it WILL happen to you if you are not very careful about your levels of exposure. Here is a list of 10 tips I wish I had of known about before this happened to me, if I had, I would probably be fine today.

1: Keep a fan running on you at all times, especially during application. My theory here is that you need to keep the fumes away from your skin and clothes the best you can otherwise, as Dr Kurt said, it's just like mulberry juice, straight in.

2: Do not assume that because the mix has cured it is safe, quite clearly it is not and from what I understand, despite the instructions saying it is OK to sand after just 6 hours, it is my opinion that you would do so at your own peril and be a fool to go anywhere near it before at least 24 hours. Bottom line watch the dust, it's very dangerous and the greener it is the more you need to be cautious.

3: Wear long sleaves and trousers and do not keep wearing the same ones unless they have been washed between each application. This and the fact I did not run a fan was probably my biggest error, I reused the track pants assuming the dust to be inert and once they had become impregnate with dust, they proved lethal.

4: Don't rely on disposable gloves to protect you. One submission at the above link suggest that the fumes from epoxy go right through these thin gloves breaking down some elements of their composition and increasing the over all toxicity of the epoxy that is going into your hands. After my experience, I have no problem in believing this is true, and whilst epoxy is not a known carcinogen, you don't know what is in the gloves.

5: Do not under any circumstances use acetone to clean up. This is the very quickest way to become sensitised. The acetone will immediately remove any natural protective oils in your skin and take anything it has dissolved, that is ANYTHING it has dissolved straight into your body. If you are going to use acetone to clean up your skin, you may as well just grab yourself a syringe and wack the crap up your arm and be done with it because it is much the same deal.

6: A well ventilated work area is a real no brainer but don't stop thinking about it just because the product has cured. Epoxy takes a very long time to cure out completely, it will gas off for days or even weeks. A lot of us have RH controlled rooms and these by their nature need to seal up quite well. Don't leave epoxy to cure in such a room and then walk in the next day thinking all is well, you will be breathing this stuff into your skin and lungs.

7: This next one is my own theory so take it for what it is worth. I know that many use epoxy thinned with alcohol as a final wash coat to avoid any patchiness from earlier sand through. Be very, very careful with this practice. It is my thought that having the alcohol gassing off so rapidly and taking epoxy fumes with it right into your face is a great way to become sensitised really, really quickly and despite my use of a respirator was probably another big contributor to my current tale of whoa.

8: Use something else. Egg white, paste filler, pumice, whatever, but do what you can to limit your exposure. If I had it over I would meter out my exposure to epoxy like water on a lost life raft. At least doing so would have left an arrow in my quiver for when nothing else would do but epoxy. Now I have shot that arrow away into a bottomless canyon and it's gone forever and I am still itching.

9: Use something else.

10: Use something else.

I sure hope this helps someone avoid my horrible experience. My guitar remains unfinished, before the epoxy I strung it, played it and it was great. I somehow now need to decontaminate the work area and sand off the last coat of epoxy before I can finish it. I have had offers to help from a number of good people but have refused to date as I would feel better to just suit up with lots of barrier cream and get the job done myself, this will also allow me to find my new tolerance if any. But first I need to come good, and at this stage it remains unclear when that will be. Soaking in the Indian Ocean and drinking cold beer seems to help a lot so I will stick with that regime for a while and see how things go.

One thing I now know for sure, if ever I need to find something out from someone and just they won't tell me, all I need to do is seal them up in a room full of epoxy fumes and wait until they become sensitised. I can stand behind the safety of a steel security door with a small hole and a box of Phenergan and I can trade just one tablet every four hours for anything I want to know, the itch really is THAT bad.




(* The Fremantle Doctor is the colloquial name given to the refreshing sea breeze which comes off the cool Indian Ocean into the coastal harbour town of Fremantle and up the Swan River to Perth. On a hot day in Perth Western Australia this breeze can mean the difference between comfort and despair, hence 'the doctor')