Ocean flight with a Piper Saratoga.

My brother Gerry bought his Piper Saratoga at the Piper dealer in Sturgis, Michigan, and invited me to be his navigator in the return flight to the Netherlands. The shortest track is from Newfoundland to Ireland, nevertheless a big amount of ocean water to cross and to much for the wing fuel tanks.


As we had no other passengers :-) the four passenger seats in the back were replaced by an extra 150 gallon fuel tank. Our plan was to start from St.John's, but a Blizzard storm (White Out) was coming rapidly behind us, so we change plans and flew to Gander, giving us one hour extra to finish preparations for final take off. We had a long wire radio for radio contact with the air-traffic controllers on both sides of the ocean, but using the profs in the airliners as a relay station proofed to work out better. And besides of that, the profs in their computer steered jets were very helpful and curious how we managed this journey in such a small plane.


Unfortunately we left the oxygen masks in the back, out of reach because of the fuel tank. Gerry is used to these heights, but 17.000 feet made me a little airsick. Our next stop could be Shannon (Ireland), but things were going very well (besides of my dizziness) and thanks to the strong tail wind there was enough fuel to proceed non-stop to our small home-airport in Hilversum.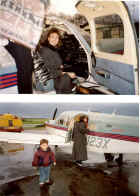 We came in a half our before sunset, so we had to circle around for half an hour on the last remaining fuel till sunrise as Hilversum Airport is only available during daylight. Because of the very wet and swampy field it was closed for all planes. But then, it doesn't happen very often that a Piper arrives on the last day of the year and coming from Newfoundland, after a 14 hours non-stop flight. So by exception we got permission to land. At the end of the runway the nose-wheel disappeared more than a feet in the ground and a tractor was needed to pull us out.

Part of the deal in Sturgis was selling them Gerry's old plane, also a Piper Saratoga. A few months after this ocean flight we returned with this one. Not non-stop (not possible because of the strong west winds) but with a necessary stopover in Reykjavik (Iceland) As it was a plane who rapidly needed a complete overhaul, extensive tinker was necessary in Reykjavik to keep her flying ............. Landfall was in Goose Bay, Labrador.